Fishbone: The Brand Remains The Same
Let's talk about Fans. How enthusiastic they could be in adapting the visual expressions of the band they love, how deep their identification with musical art(ists) could be. For example the Fishbone Fans.
Well, or right, there is really a lot to tell about this incredible Band Fishbone, founded around 34 years ago in Los Angeles and – after a couple of highs and lows and changes of members – still alive and, oh yes, ska-punk-funk-hard-rock-soul-kicking. And their long way through the pop is been told: in this excellent Documentary Film called  "Everyday Sunshine – The Story of Fishbone". If you could, go and and watch it.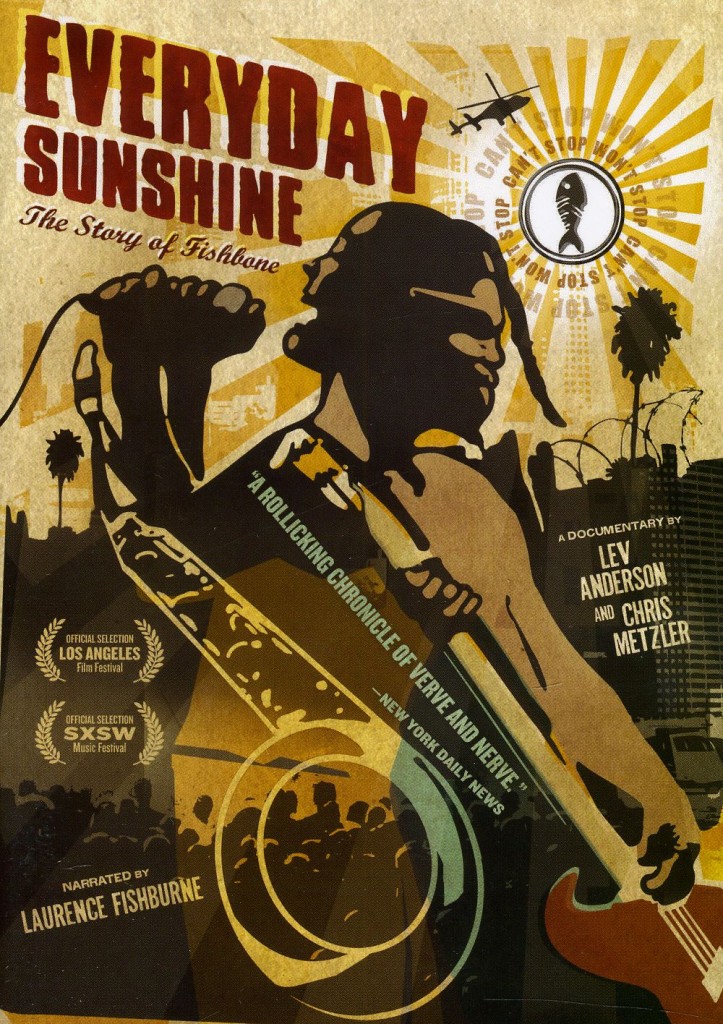 There is also something to tell about their unique Logo (see it in upright position in the top-right corner of this DVD-Cover). This handmade Illustration of a Fish-Skeleton, that appeared on the back of their first LP from 1985: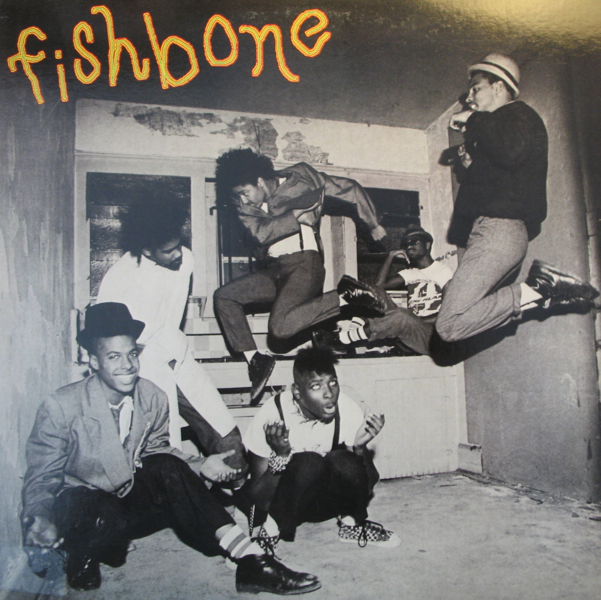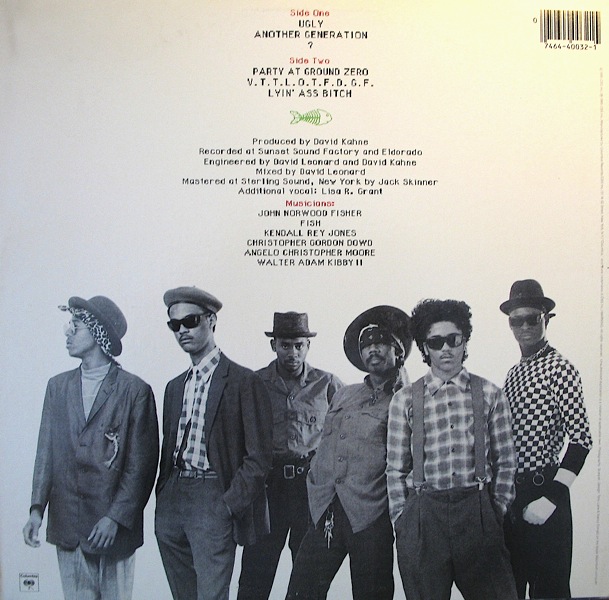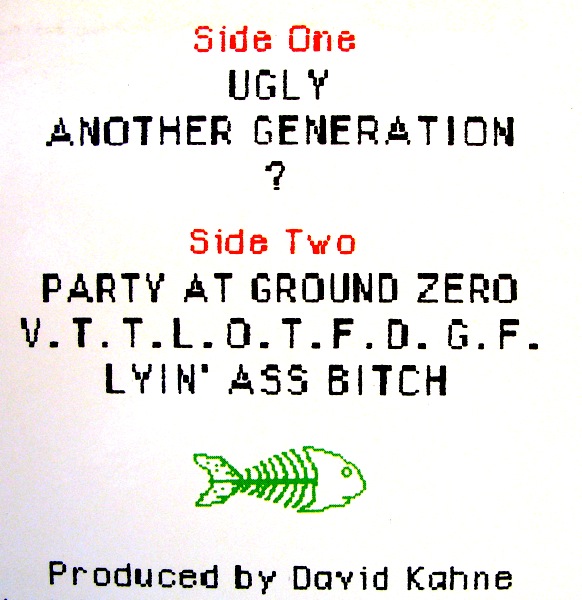 Shortly after (as far as I know), this Skeleton is surrounded by a doubled circle, and this "Sign" is their original Logo – until today.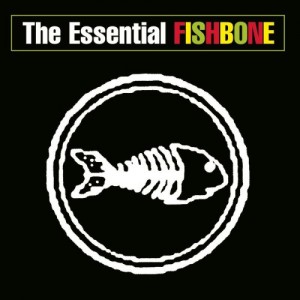 The bold plagiarism of a german textile company and the annoying results of that for the musicians – man, that's a different story (that must be told here, yes. And it will.). But, let's conclude, there is only one Band called Fishbone and they invented this Brand, they are this Brand. With their very own Fishbone-Music, their very own way of expressions and their very own way of communicating with their audiences, Founders Angelo Moore and Norwood Fisher – and all their musical and managing collaborators, they all made this Logo a true Pop-Symbol: A visual sign with Music and Soul and Spirit and a Story behind – ready to rock. So, for this moment,  let's talk about Fishbone-Fans and how they roll with it.
Or, even better, let's have a look on them, wearing, showing, yes. living the Fishbone-Symbol, which means bringing the Fishbone-Spirit to life. As amazing haircut, with a beautiful pumpkin, on a sexy back, on the front, titled with an unambiguously statement, and as Tattoo. Please note: It's just a Selection. All  Photos are originally published at the Facebook-Page of Fishbone – "Photos from the Road" http://www.facebook.com/media/set/?set=a.10151168668724893.468401.6519219892&type=1  and the Facebook-Page of "Every Sunshine" http://www.facebook.com/pages/Everyday-Sunshine-The-Story-of-Fishbone/120839111267849 To follow these Pages both, I can unconditionally recommend; they're great Sites.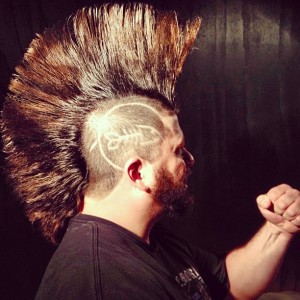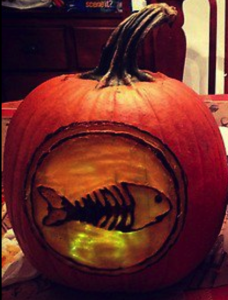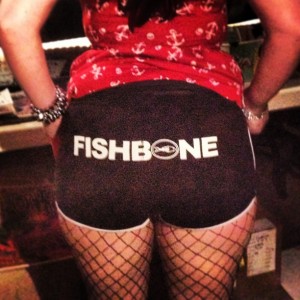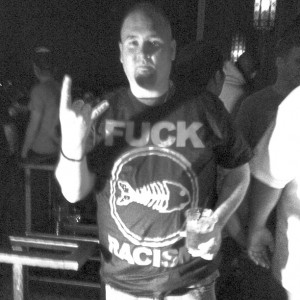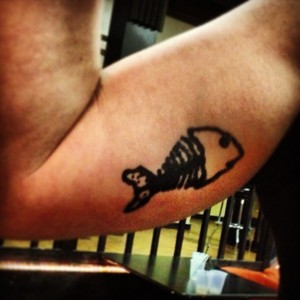 On these pages I also found a picture of a Fishbone Setlist, with a little Fishbone-Symbol at the ground. This is really cool.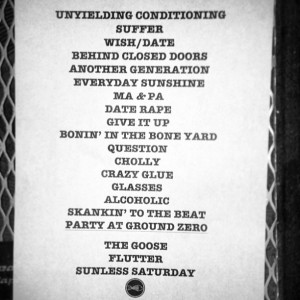 As a long-time and very engaged pop-symbol-researcher, I only can sympathize with such a Band. Because it's a strong Band, that takes their visual brand as serious as possible, that remains faithful to their very own pop-symbol, and that takes it with itself so intimately. This is not only to respect, it is rare as well.
And as a Fan and Follower since 1985 (oh, yeah, there must be a worn T-Shirt in my wardrobe, which I've brought at a concert in Berlin in the late 1980's)  I have to point out, that they were a big influence to me, and an inspiration, first musically, but also in directing my journalistic focus to Artworks, Logos and Symbols in Pop-Music.
So, thanx-a-lot, Guys, keep on SkaPunkFunkin' on the One!